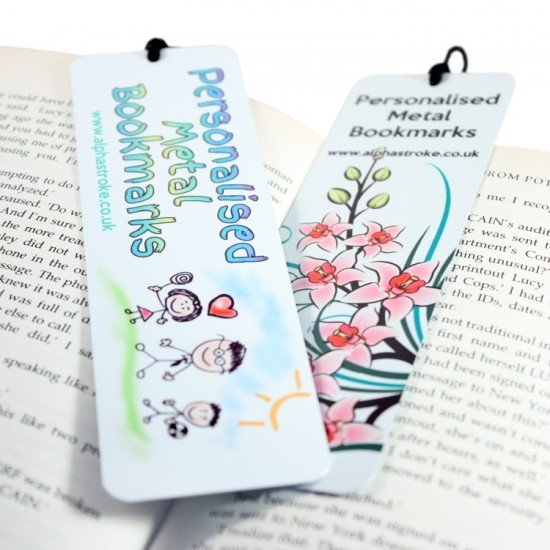 Add Images, Photos, Personalised Text or Business Logo.
Fantastic as a unique gift for a friend or family member, promotional item or custom printed retail item for your business!
White Coated to enhance Vibrant Full Colours designs.
Much more durable than paper
Measures 4.5 x 15cm
Includes tassel*
Quantity savings for bulk orders
* We can supply tassels in colours apart from the standard Black, Silver or Gold options for bookmark orders above 100.

Single Sided Design
We cannot put any text or images on the back. Back is plain silver metal.
PLEASE NOTE:
If your design requires colour accuracy, we recommend our White metal bookmark instead as this will show true colours. (image example below)
Otherwise design colours will be tinted with the colour of the surface finish colour selected.
Surface finish is single sided only (the side your design gets printed on). The back is brushed aluminium similar to Brushed Silver colour.
Personalised White Metal Bookmark With Tassel
5 or more £5.95
10 or more £4.95
25 or more £3.95
50 or more £3.55
100 or more £2.95
250 or more £2.75
500 or more £2.55
1000 or more £2.45